About
Junior Golf Roadmap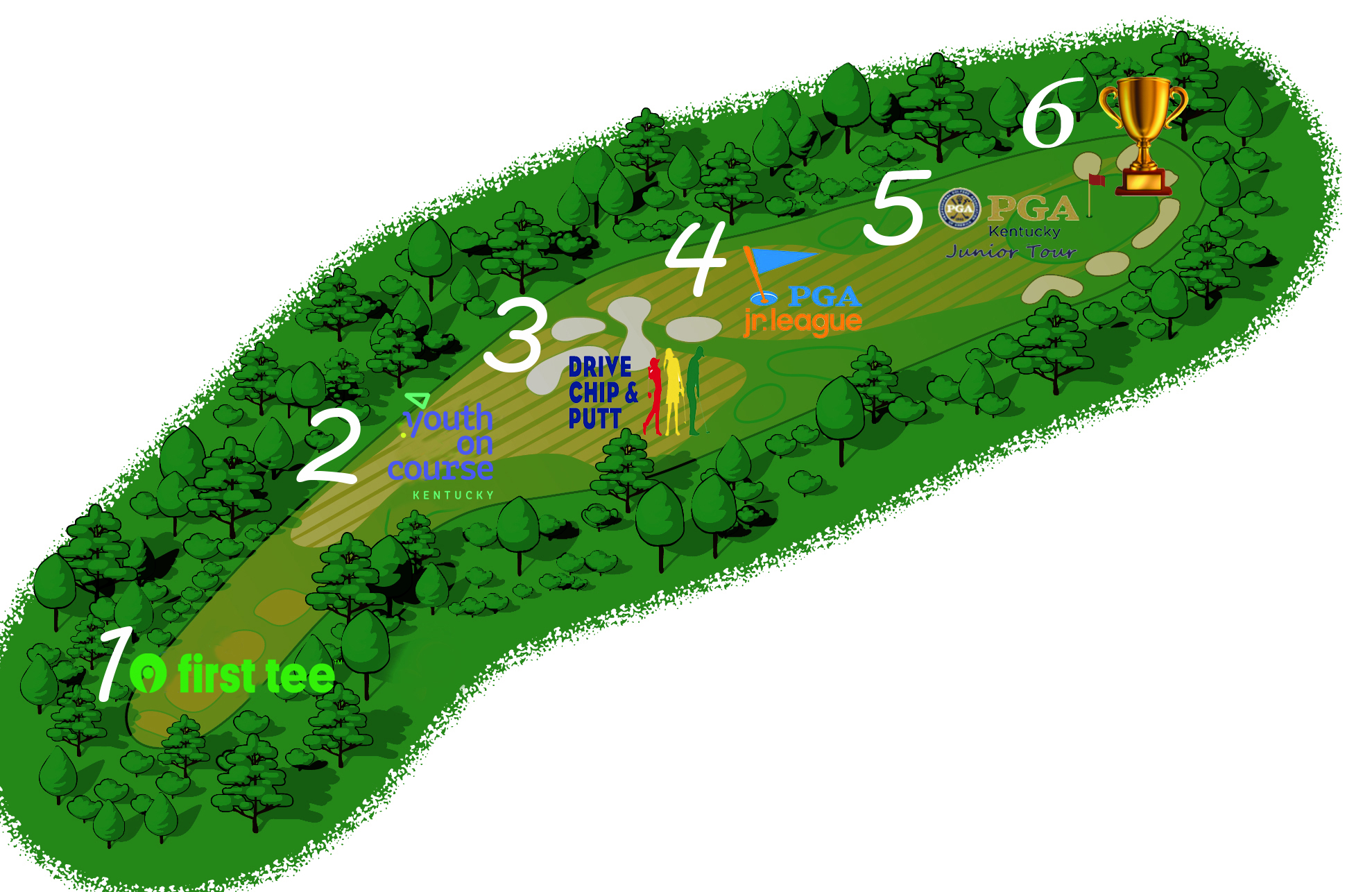 This roadmap is a suggested outline of how junior golfers should proceed during the beginning of their careers. Junior golfers do not have to follow this roadmap thorougly as everyone is different and has his/her own interests, but it has been proven that proceeding as shown in the roadmap has a positive impact in developing junior golfers.
1: First Tee: Welcome to the game of golf! The First Tee will introduce you to golf and the First Tee's Nine Core Values: honesty, integrity, sportsmanship, respect, confidence, responsibility, perseverance, courtesy, and judgment. The First Tee doesn't just build golfers; it builds character. More about The First Tee
2: Youth on Course: Ready to play? Join Youth on Course for $5 to receive membership for one year. After that, you pay $5 or less for every round of golf you play at one of Kentucky's 45+ participating courses. More about Youth on Course
3: Drive Chip & Putt: Up for some competition? Sign up for free to participate in a Drive Chip & Putt Local Qualifier if you're 7-15 years old. After three stages of competition, the top players from across the country will advance to the Drive Chip & Putt National Finals at Augusta National Golf Club during Masters week. More about Drive Chip & Putt
4: PGA Jr. League: Team golf, anyone? If you're 13 years old or younger, you can compete in golf tournaments with your friends as teammates. A PGA or LPGA Professional will captain your team. The best team in the country will be crowned in Arizona each autumn. More about PGA Junior League
Middle School/High School Golf: In between steps 4 and 5 is about the time junior golfers will begin to try out for their school's golf team. Playing for your school's golf team provides the opportunity to meet friends at your school who play golf, represent your school's athletic program and begin impressing college golf coaches. More about middle school golf More about high school golf
5: Kentucky PGA Junior Tour: Game on! The Kentucky PGA Junior Tour provides events with a competitive atmosphere to junior golfers all across Kentucky. With a variety of events and formats for boys and girls of all ages, you can compete against other Kentucky golfers in traditional tournament golf. More about the Kentucky PGA Junior Tour
6: College Golf and Beyond: Of the 111 2020 high school graduates that were members on Tour, 51 of those players are now playing college golf on some level. There are also Kentucky natives who made starts on the PGA Tour or Korn Ferry Tour in 2020, while one female (Emma Talley) made LPGA Tour starts. By following this roadmap, you could find yourself playing with the best golfers in the world one day.
Kentucky Junior Golf Supporters